As of October 2021, the 10:30 am First Day meeting for worship will be hybrid. Zoom is the primary platform and in-person attenders are "one" Zoom participant in the larger Zoom meeting.
Meeting for Worship with Attention to Business will be 100% Zoom.
We need many hands to make this work. Here are the details of the types of volunteers which will make this work!
In order to maintain social distancing, we have space for approximately 25 people.
Click on the "Sign up" icon and see if there are open chairs on each Sunday
Masks are required
9:00 Worship
9 am Meeting for Worship will be in-person only. Meeting will have a clerk, greeter and, after meeting breaks, a cleaner.
10:30 Worship
We can accommodate 22 attendees along with three volunteers. In order to see if there are enough seats for you, please click the "Sign up" icon below and go to the date you would like to attend.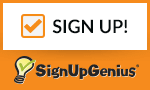 Volunteer to be a technology assistant (click for detail)
Volunteer to be a greeter (click for detail)